Nhung Tran-Davies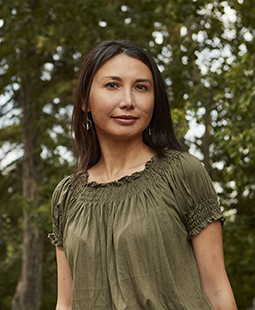 Nhung is a writer and physician, and proud graduate of the University of Alberta. Through the kindness and compassion of some amazing Canadians, 5-year-old Nhung, with her mom and five siblings, were sponsored to Canada in 1979 from a Malaysian refugee camp. They were refugees from the Vietnam War. Nhung now reside in small town Calmar, Alberta.
Nhung loves to write children's stories that convey the humanity in our lives. For her, children are reminders of the beauty in a grain of sand, where lies the interface between art and science. Nhung's books have been shortlisted for the Alberta Literary Award, Red Maple Award, and Blue Spruce Award.
Aside from for writing and medicine, her passions are travelling the world, reading poetry, and just hanging out in the garden with her three rambunctious children and their five cats.
Visit Nhung's web site at www.nhungtrandavies.com.
Green Papayas

$21.95

ISBN: 9780889955608 Binding: Trade Cloth Publisher: Red Deer Press Inc Publication Date: 2023-05-24

Green Papayas

$12.99

ISBN: 9780889957268 Binding: Epub Fixed Layout Publisher: Red Deer Press Inc eBooks Publication Date: 2023-04-25

Green Papayas

$12.99

ISBN: 9780889957251 Binding: PDF Web Ready Document Publisher: Red Deer Press Inc eBooks Publication Date: 2023-04-25