Latest News
March 18
Author Shelley A. Leedahl will be launching her new book The Moon Watched It All with several events in Saskatchewan and British Columbia this April. Below is her itinerary for these events:
Wednesday, April 3rd, 7:00 PM - Saskatchewan Launch at McNally Robinson Bookstore, Saskatoon
Thursday, April 4th, 7:00 PM - Reading at Watrous Public Library, Watrous, SK
Saturday, April 7th, 1:30 PM - Reading at Meadow Lake Public Library, Meadow Lake, SK
Wednesday, April 24th, 7:00 PM - Book Launch at Fox and Hounds, Ladysmith, BC
Saturday, April 27th, 1:30 PM - Book Signing at Salamander Books, Ladysmth, BC
More events may be forthcoming soon.
January 28
The United States Board on Books for Young People (USBBY) have announced their 2019 Outstanding International Books List. Included in the list of 39 books is:
Skating Over Thin Ice by Jean Mills.
"Teens on the international stage in music and hockey commiserate and relate."
The Outstanding International Books committee
Below is a map of the location of the books on the list: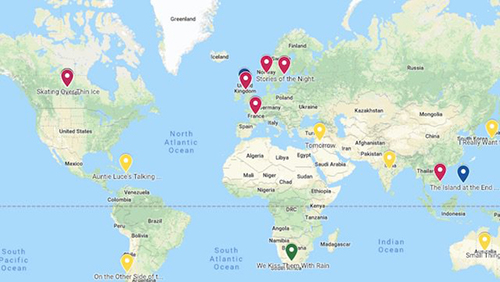 The United States Board on Books for Young People (USBBY) is a non-profit organization devoted to building bridges of international understanding through children's and young adult books; it serves as the U.S. national section of the International Board on Books for Young People (IBBY).
The Outstanding International Books (OIB) committee is charged with selecting international books that are deemed most outstanding of those published during the calendar year. For the purposes of this honor list, the term "international book" is used to describe a book published or distributed in the United States that originated or was first published in a country other than the U.S.
---
January 14
After extensive reading and lots of discussion, the Ontario Library Association's Best Bets committee has finalized their lists and prepared their Top Ten titles for each of their book categories. Best Bets looks exclusively at titles published in the past year that are either written or illustrated by a Canadian or someone living in Canada. The categories include Picture Books, Junior Fiction, Junior Non-Fiction, Young Adult Fiction and Young Adult Non-Fiction.
Congratulations to Eat This! How Fast Food Marketing Gets You to Buy Junk (and how to fight back) by Andrea Curtis and illustrated by Peggy Collins, which is a Top Ten book in the Young Adult Non-Fiction category
The finalized list of winners and honourable mentions will be announced on Wednesday, January 30 at the 2019 OLA Super Conference.
---
January 8
Recently CanLit for Little Canadians updated their list of Exceptional Novels in Verse for Young Readers from 12 to 26 novels. Recently added novels from Red Deer Press are:
Closing Down Heaven by Lesley Choyce
The Gospel Truth by Caroline Pignat
Jeremy Stone by Lesley Choyce
On the original list of 12 Was:
In The Garage by Alma Fullerton
Looking for Canadian novels in verse for middle-graders or teens? Look no further than this updated booklist of titles by Canadian authors for young people. It's a very difficult genre in which to write and these authors do it so well!
---
January 7
Resource Links has issued their The Year's Best 2018 list. The following are books we published that are on the list:
Charles by Stephen Hume, illustrated by Jessica Bromley Bartram
Talking to the Moon by Jan L. Coates
Clutch by Heather Camlot
Kate's Ring by Donna Grassby
---
December 10
Kirkus Reviews have issued their Best Books of 2018 list. One of 8 in the Middle-Grade Nonfiction category is;
Eat This!: How Fast Food Marketing Gets You To Buy Junk (And How You Can Fight Back) by Andrea Curtis and illustrated by Peggy Collins
---
November 21
The School Library Journal has come out with their 2018 Best Books list. On the list in the Non-Fiction Category is:
Eat This!: How Fast Food Marketing Gets You To Buy Junk (And How You Can Fight Back) by Andrea Curtis and illustrated by Peggy Collins
---
October 11
The Forest of Reading nominees are announced.
Nominated for the 2019 Red Maple Fiction Award is:
Skating Over Thin Ice by Jean Mills
The Forest of Reading® is Canada's largest recreational reading program! This initiative of the Ontario Library Association (OLA) offers seven reading programs to encourage a love of reading in people of all ages. The Forest helps celebrate Canadian books, publishers, authors and illustrators. More than 270,000 readers participate annually from their School and/or Public Library. All Canadians are invited to participate via their local public library, school library, or individually.
---
September 28
The Nominations for the 2018–2019 Hackmatack Awards have been announced. Among the nominees for the English Non-Fiction award is a Red Deer Press book:
The Hackmatack Children's Choice Book Award is a literary program designed for young readers in Atlantic Canada. Each year, thousands of children in grades four to six (aged nine to twelve) read from the selection of outstanding Canadian books and vote for their favourites. The award is designed after similar successful programs in Ontario (The Silver Birch Award) and British Columbia (The Red Cedar Award). Just as other provinces have chosen names of well-known trees in their regions for their reading programs, the name of the Hackmatack program comes from a tree commonly found in Atlantic Canada, also known as a tamarack or larch.
---
September 20
The Lane Anderson Award announced their 2017 Shortlists. Included in the Young Adults category is:
Big Blue Forever: The Story of Canada's Largest Blue Whale Skeleton by Anita Miettunen
The Lane Anderson Award honours the very best science writing in Canada today, both in the adult and young reader categories.
---
September 17
BC BookLook did a profile on Ray Michalko and his book Obstruction of Justice: The Search for Truth on Canada's Highway of Tears. The following excerpt is from the profile:
This is an important book about justice, race, and gender in Canada, themes that surface throughout the narrative. The book's relevance has only increased since it was published in 2016, particularly given recent controversies surrounding the National Inquiry into Missing and Murdered Indigenous Women and national conversations about Indigenous rights and the commemoration of Sir John A. McDonald.
---
September 6
The Canadian Children's Book Centre (CCBC) have announced the finalists for the 2018 Geoffrey Bilson Award for Historical Fiction for Young People.
Included on the list is Clutch by Heather Camlot
---