Monica Heisey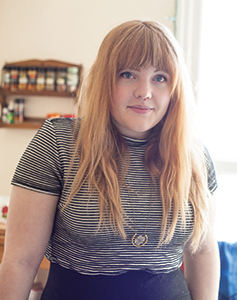 Monica Heisey is a writer and comedian who splits her time between her hometown of Toronto and London, UK. Her writing has appeared in VICE, Playboy, The Cut, HelloGiggles.com, The Hairpin, The Toast, Reader's Digest, Noisey, New York Magazine, The Guardian, The Huffington Post, www.fashionmagazine.com, The Toronto Standard, SheDoestheCity.com, Munchies, and CBC Punchline, and a bunch of other internet and print places.
Aside from writing, Monica also does stand-up. However, she admits stand up is much more difficult, teetering on the spectrum of interesting, stressful and fun. "I just feel like I don't have as much control with the comedy I'm doing in stand-up. You really do have a lot of control of how people experience a joke when you're writing it, being able to set it up how you want. Where as on stage, if you put emphasis on on a wrong word, the whole joke is ruined.
Heisey is moving to New York in the fall to work for Vice's new segment devoted to a female audience. She tells us, "They're working on an oral history of glitter! There's gonna be a nice mix of serious and silly, well-researched coverage of big and small issues."
She has an MA in "Shakespeare Studies," whatever that is.
The featured article in the May 2016's edition of Flare Magazine is on the Top 60 Ladies Under 30. Monica has been included in "The Creatives" category.
Follow Monica on Twitter at twitter.com/monicaheisey
Visit her website at monicaheisey.tumblr.com
Books by Monica Heisey:
Sort By