Lori Weber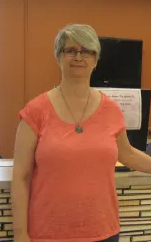 Lori studied English literature at university and did a master's degree in English.
She lived for several years in Atlantic Canada and then returned to Montreal, teaching English at Vanier College in 1994 before moving to John Abbott College in 1996. Seven years in, she decided to focus on writing in a more serious way and began teaching part-time and writing more. This led to her first book, Klepto. Lori has continued to combine teaching and writing ever since. Both are labour-intensive and the two together equal more than one full-time job, but she's able to earn a living and continue writing books. She has also delivered workshops in writing for teens through the Quebec Writers' Federation.
Visit Lori's website at loriweberauthor.wordpress.com.
The Ribbon Leaf

$16.95

ISBN: 9780889956636 Binding: Trade Paper Publisher: Red Deer Press Inc Publication Date: 2022-07-06