Jan L. Coates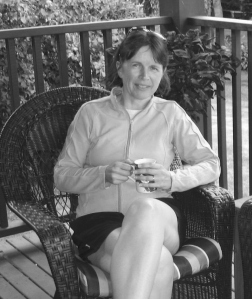 Jan L. Coates is a writer living in Wolfville, Nova Scotia with her family, and currently working as a teacher as well as giving school writing workshops through the Writer's Federation of Nova Scotia. She grew up in Truro, NS, went to Acadia University, and has been writing for children since about 2000 when her picture book manuscript, Sam's Magic Cape, placed second in the Atlantic Writing Competition. There followed the publication of her first picture book, Rainbows in the Dark, in 2005, and most recently two middle grade novels: The Power of Harmony (Red Deer Press, 2013), and Rocket Man (Red Deer Press, 2014).
Her YA novel, A Hare in the Elephant's Trunk (Red Deer Press, 2010), was a finalist for the 2011 Governor General's Literary Award as well as for the 2011 Ann Connor Brimer Award for Children's Literature. Proceeds from HARE are being shared with Wadeng Wings of Hope, Jacob Akech Deng's foundation through which he's raising money to build a school in Sudan; the first two classrooms in the school were completed in the winter of 2013.
For more information on Jan and her books...
Click here to listen to an interview with Jan on Cabin Tales for Young Reader about her writing process.
Visit Jan's website: jancoates.ca