Cynthia Nugent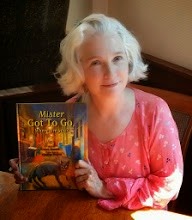 Cynthia Nugent is an author living in Vancouver, British Columbia. Her most recognizable work is in her illustrations; most recently she has had her work published in Lois Simmie's, Mister Got to Go Where Are You? And Joan Betty's A Time to Be Brave.
Cynthia is also a freelance editor, and MA student in children's literature at the University of British Columbia. She founded her own design company, Rascal Media, and is a member of the Children's Writers & Illustrators of British Columbia Society (CWILL~BC)
For more information on Cynthia Nugent and her books or work...
Click to visit www.cynthianugent.com
Rascal Media rascalmedia.com
Follow Cynthia on twitter: @cynthianugent
Cynthia's Blog www.fredandpeteatthebeach.com
Follow Cynthia on Flickr jump8999