Dale Patterson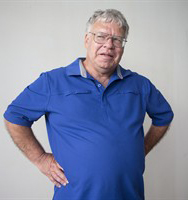 A graduate of Ryerson University's journalism program, Patterson worked 35 years at The Canadian Press in Toronto. First as an editor in the sports department, then in radio as an editor-reporter, as an editor on the Business Information Wire, and various other positions. He retired from the national news agency in May 2010.
Patterson first worked in broadcasting as an operator at CKFH Toronto in 1974-75, staying just long enough to witness the switchover from oldies to country. From 1985 to 1988 and again in 1990, he hosted a weekly oldies show called The Gold Mine at CING-FM (FM 108) in Burlington, Ontario. He continued this weekly show at CFMU-FM in Hamilton, Ontario, from 1992 to 1994.
Since 1996, Patterson has also published an extensive web site which focuses on the history of Canadian and U.S. rock radio. Rock Radio Scrapbook, Canada's Aircheck Archive, is one of the largest of its kind in the world. In 2018, Patterson began "Oh Wow: The Songs Radio Forgot", an online station dedicated to lesser-known tunes.
Visit Dale's website at rockradioscrapbook.ca/dalerp.html.