10 Years of Egghead!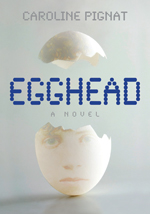 First printed in November 2007, the story of gawky teen Will Reid, his friend Katie, and a group of high school bullies was immediately acclaimed by readers and critics alike. It received stunning reviews and was nominated for several awards. It's been through eleven pressings to date with tens of thousands of copies in print. Egghead, in fact, was the start of an extraordinary Canadian writing career. Since its release Caroline Pignat has gone on to publish six critically acclaimed novels with a picture book slated for spring 2018. She's also garnered a score of literary honors and awards, including an incredible two GG's.
In light of Egghead's tenth anniversary this month, we asked Caroline a few questions on the life of this remarkable book.
Egghead of course was your first novel. Tell us, what was going through your mind when you opened that first box of author copies?
I was doing a Bullying Awareness presentation to the Grade 7 and 8s at All Saints High School. As part of the launch, the school would receive a class set of Egghead — and it arrived as I was presenting. Actually, the first time I held a copy of Egghead was when the secretary ran down to the gym and handed me one in the middle of my presentation. I'd been dreaming of writing a book since I was a student and here I was holding my novel in my hands. It felt surreal. So, I had my squealing-freak-out-jump-around moment in front of 450 grade 7 and 8 students. But they got it — Grade 7 and 8s totally get it — and it was wonderful to share it with them.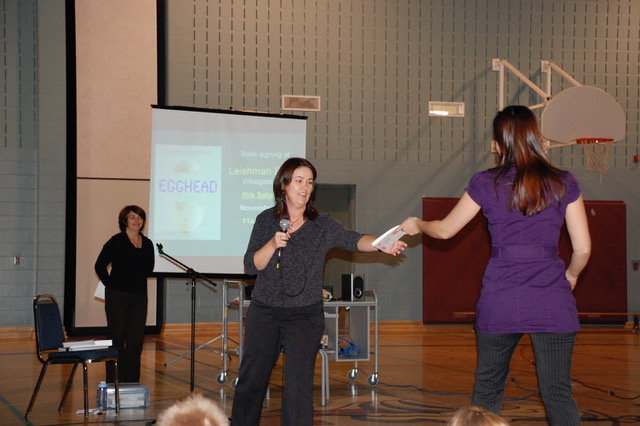 What is it about this story that gives it such enduring appeal?
In 2003, I was lucky enough to attend a workshop with author Jerry Spinelli. He gave the best writing advice and I continue to share it with my readers and students: start with an emotionally charged memory. In his workshop, I wrote about the feeling of guilt at being a bystander who did nothing to help. That became Katie's voice. I think when that core emotion rings true, it resonates through the story and with the reader. It feels real because it is real. I think in fiction, as in life, people respond to authenticity and vulnerability.
I am so thankful for the hundreds of letters I've received from young readers and I've been fascinated to learn how different the novel is for each of them. Some relate to Will (victim), others relate to Katie (friend of victim) or Devan (friend of bully). Many write to me about how they can relate to Shane (the bully) who is himself a victim at home. The multiple points of view offer multiple ways into the story. This format also meant I had to keep the chapters short and the voices distinct, which is also appealing to these readers.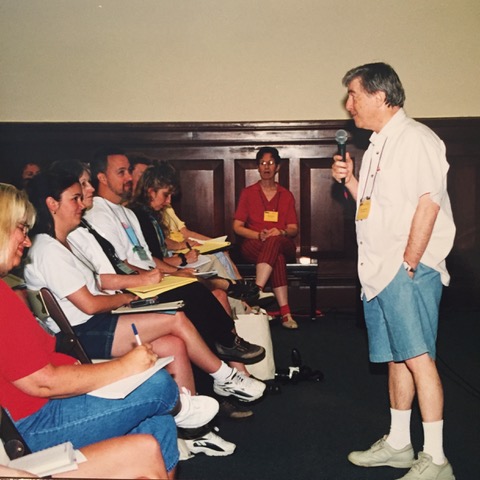 Young adult sections in bookstores across the country abound with bullying stories. This, however, was not the case when Egghead was first published. How did the idea for the story evolve?
After that writing prompt from Jerry Spinelli's workshop, I had Katie's story. I was going to write it from her side. I had the chance to hear Barbara Coloroso's profound presentation on The Bully, the Bullied, and the Bystander and I realized how important it was to tell more than one side of the story.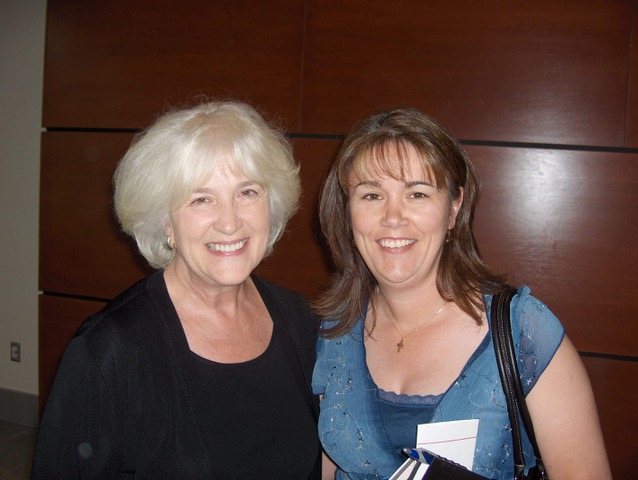 Devan evolved from research, memories of high school, and the help of my husband, Tony, whom I met in Grade 8. I wrote the whole thing in Katie's and Devan's voice but it still felt like something was missing. I actually gave up on it for a few years — the inner critic kept telling me it would never get published, no one would read it, and who was I to think I could ever be a writer. Then, because I was reading free verse novels, I tried writing the whole thing in Will's voice using free verse poems. First person puts us in their heads, but poetry puts us in their hearts. I liked the poems, but that version also felt incomplete. I eventually took both versions to an SCBWI workshop where the wise Karleen Bradford suggested I include all three voices. Like Karleen said, "just because it hasn't been done, doesn't mean you can't do it."
You receive a lot of feedback from readers, educators, parents. From this, have you been able to gauge what kind of impact this book has had?
As a teacher, I know the challenges and joy of finding great books that engage the whole class. It's so wonderful to hear that Egghead is that resource in so many classrooms. Every year, teachers reach out and tell me how Egghead is connecting with their students. For some teachers, it is their first time using it and they are amazed by its impact. Others have taught it every year since it was published — Egghead is a tried and true staple of their program. The format, the characters, the issues — it all seems to just click with this age group. Tweens can relate to the characters; they are passionate about the injustices; and the ensuing class discussions and innovative activities lead to greater awareness, insight, and empathy. In some cases, students have written me to let me know that because they studied Egghead they got the help they needed as victims, bystanders, and bullies.
When a reader tells you Egghead helped her overcome a troubling life situation, she's also saying story matters. What is it about literature that gives it the ability to shape human experience?
Story matters because it is how we make sense of the world. It's how we define who we are and who we'd like to become. In story we learn from our heroes and our villains. We live their experiences and emotions and we grow in wisdom. Yes, story entertains and allows us to escape for a little (or long!) while, but at the end of the book, a story enlightens. I believe that story should give us hope. Those are the ones that I love to read and aspire to write. The story we read brings deeper meaning to the story we live. We are changed for the better because of that shared experience.
It is a humbling and amazing thing to know that my story has touched theirs. Thanks to all the readers who've shared that experience.
Thank you, Caroline.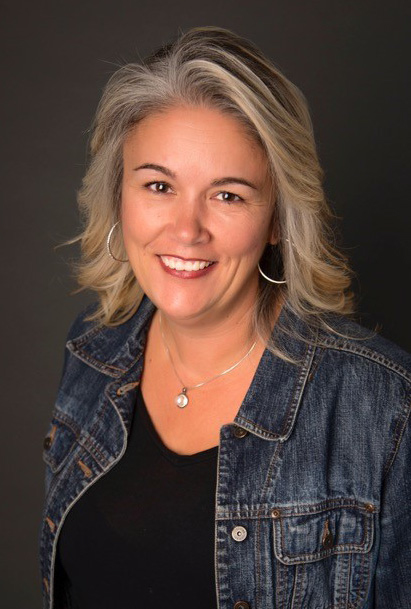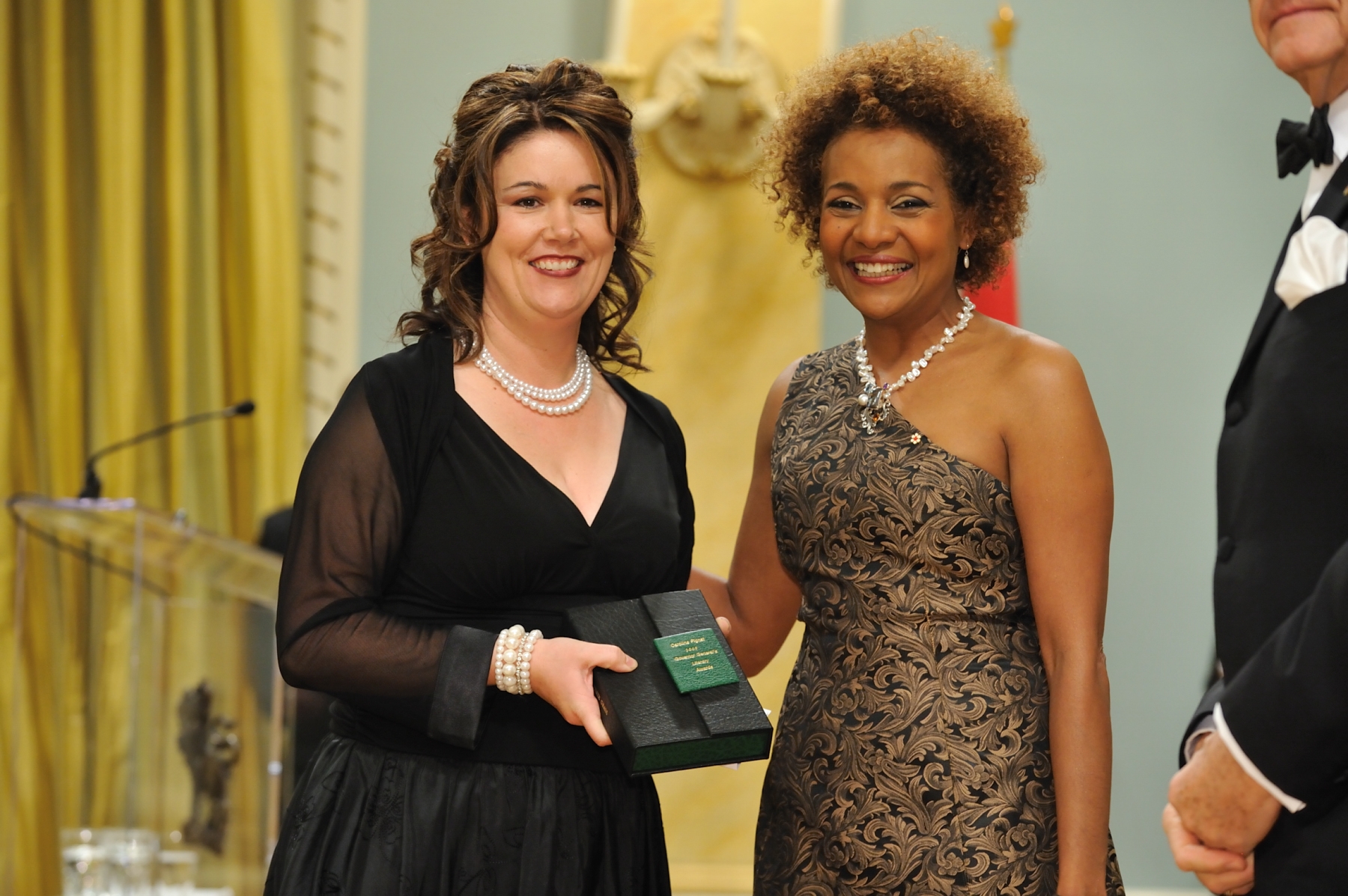 Caroline receiving the 2009 Governor General's award
for Greener Grass from Governor General Jean Sauvé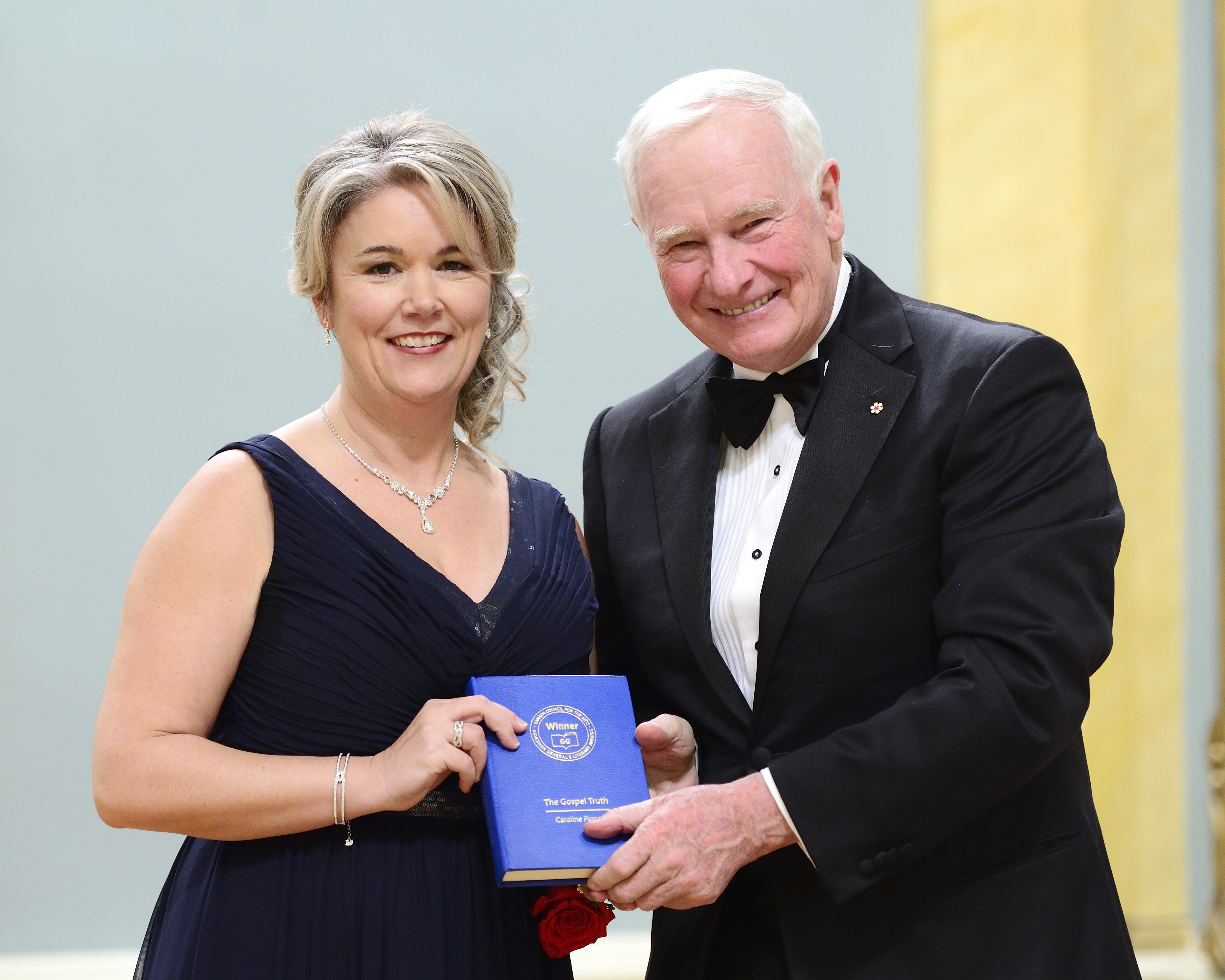 Caroline receiving the 2015 Governor General's award
for The Gospel Truth from Governor General David Johnston