Ron Lightburn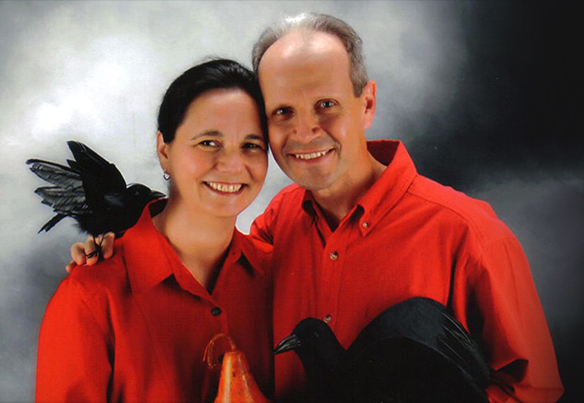 Sandra and Ron Lightburn
Ron was born in 1954 in Cobourg, Ontario. He attended the Alberta College of Art from 1973 – 75. Ron illustrated his first children's picture book, Waiting for the Whales, in 1991 and received three national awards including the Governor-General's Literary Award for Children's Illustration. Since then he has illustrated twelve children's books and has become internationally renowned for his visual storytelling skills and range of illustration styles. Ron's children's books have been published in nine countries and eight languages.
In 2005 his paintings for the children's book, A Poppy Is to Remember, were selected to commemorate the 60th anniversary of the end of the Second World War in the Library and Archives Canada publication Read Up On It: A Wish For Peace.
In 2016 Ron retired from the world of illustration and applied art to focus his creative direction on fine art. (The term "fine art" refers to an art form practiced mainly for its aesthetic value and its beauty – "art for art's sake" – rather than its functional value. The term "applied art" refers to the application of artistic design to utilitarian objects in everyday use.) Ron's fine art influences include the Impressionists, the Group of Seven and woodcut artists such as William Nicholson and William Seltzer Rice. Ron studied art history as a student at the Alberta College of Art and subsequently began to establish a career in fine arts with exhibits of his landscape paintings in Victoria, B.C. art galleries.
"I enjoy painting scenes from my garden, neighbourhood and other Nova Scotia locations. I am interested in creating images that have a personal connection by interpreting the beauty of my local environment."
Visit Ron and Sandra's website at thelightburns.com